NEXT GENERATION READY!
NCLEX High Yield is ready to educate students on how to tackle the NEXT GENERATION NCLEX!
Click Here to Watch!
Nurse Marcini
Congrats Nurse Marcini! Nurse Marcini was an active an engaged student in the NCLEX High Yield course. Nurse Marcini was so confident and passed the NCLEX on the first attempt!
Nurse Aaliyah
This story is special! Congrats Nurse Aaliyah who failed her exam the first time around. She was disheartened and found NCLEX High Yield. Nurse Aaliyah defied the odds of coming from an immigrant family and becoming the FIRST LICENSED RN in her family.
Nurse Danielle
Congrats Nurse Danielle! From attending our FREE WEEKLY ZOOM SESSIONS and committing to our methods, Nurse Danielle was able to pass even though she wasn't a first time test-taker!
Support
We are here to help you pass your NCLEX exam. Our team is dedicated to ensuring you are prepared for your exam. We also have a community of thousands of students in our Facebook group with whom you can collaborate as you embark on your NCLEX journey.
Join Our Facebook Group
NOW ENROLLING
Questions? Contact us: contact@nclexhighyield.com
NURSE RITA'S INSPIRING STORY
Nurse Rita Passed with NCLEX High Yield!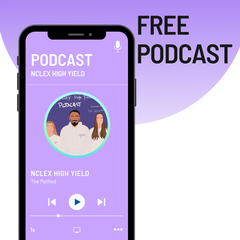 NCLEX High Yield PODCAST
Listen to our FREE podcast for short and sweet tips and tricks as you review for your NCLEX exam.
Listen Now

Nurse Jagoda
Congrats Nurse Jagoda for passing her NCLEX exam. Nurse Jagoda was a part of ours course. After taking the course she felt more confident in herself and was able to take her NCLEX without any anxiety. Every day more and more students pass using our methods.

Nurse Jill
Congrats Nurse Jill, Jill started with NCLEX High Yield and attended every Wednesday FREE ZOOM SESSION. She was hard working and committed! Jill was able to pass her boards this week with flying colors! Just goes to show never give up!

Nurse Chelsea
Congrats Nurse Chelsea, Nurse Chelsea worked with NCLEX High Yield. Hard work, dedication, and sacrifice, all Nurse Chelsea needed was UWorld and NCLEX High Yield.